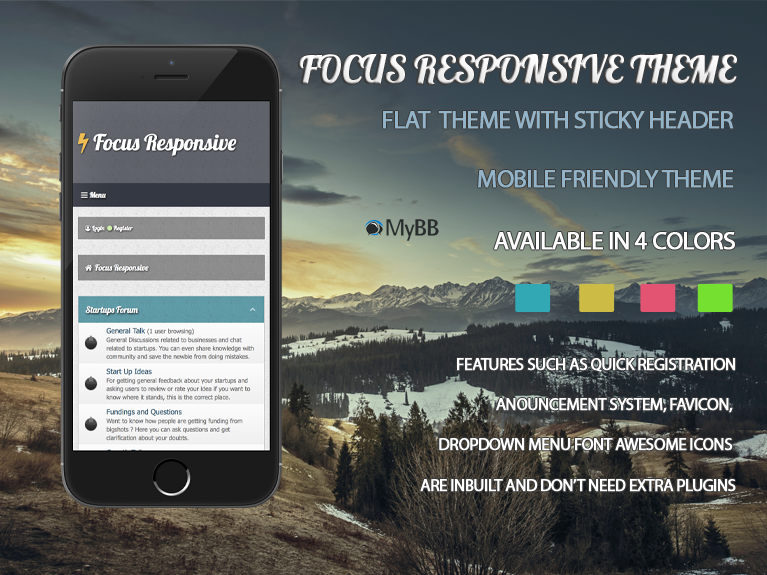 Focus - Responsive MyBB Theme - Now in 4 different colors
After getting lots of request for creating Focus theme in responsive design, I present you Focus Responsive MyBB theme. Every page is responsive and customized for responsiveness. Theme has been tested properly on MyBB 1.8.10 and to ensure that no bugs are present in the theme.
Focus responsive theme is a mobile friendly version of Focus Free theme, the new version is faster and even more SEO friendly. Responsive design also includes features such as quick registration, inbuilt announcements, quick search which makes you
focus
on your forum and let the theme take care of design part.
List of salient features of this premium theme are given below :-
    All pages are responsive with perfect reading scores ie perfect MyBB Responsive Theme

    MyBB Responsive Sidebar with advertising panel and stats

    Sidebar with Mini User CP, Multiple Advertisements block and search box

    Css3 based theme with least usage of images to make site fast

    Jquery model login

    Use of font-awesome

    Better Menu system that is responsive and based on useragent

    Breadcrumb navigation for active location in forum

    Dropdown based menu

    Quick Search for faster navigation

    Textbox, buttons and images are all redesigned

    Css3 based Buttons

    Easy to install any plugin from MyBB Mods

    Social sharing buttons on footer

    Forum Description on bottom

    Very light on size

    Google Fonts on the all pages

    Redesigned quotes and code blocks

    Inbuilt Announcement bar for putting announcements

    Search pages and search box that also is responsive

    Two Column Layout based latest thread and forum list

SCREENSHOTS ?
You can all screenshots at
https://wallbb.co.uk/product/focus-respo...ybb-theme/
HOW TO BUY ?
You can purchase the theme directly at WallBB
https://wallbb.co.uk/product/focus-respo...ybb-theme/
Price is
25$ PayPal
Enjoy the premium version of Focus Responsive MyBB Theme for an amazing community experience.
Theme by
WallBB
for forums Powered by MyBB
Some of the customer quotes :-
(2017-01-15, 01:09 PM)

VIPMinecraft Wrote: [ -> ]Vouch for WallBB I recommend it!
(2017-01-15, 03:15 PM)

hideme Wrote: [ -> ]Great theme you made there, good job keep it up
(2017-01-16, 07:11 AM)

JordanH Wrote: [ -> ]Would highly recommend this theme, and huge vouch for WallBB, ran into an issue with the theme on my board, tossed him an email and he got back to me with a fix within an hour or so, and was very helpful and kind.
(2017-01-16, 11:48 PM)

Starlight Wrote: [ -> ]This is what I was looking for!! This theme is one of the themes I'll be using on my forum and I am soooo glad there's a responsive version of it. Thanks WallBB!
(2017-01-18, 04:58 PM)

Puzzlemaster Wrote: [ -> ]Awesome, I always wanted to get the responsive version of this theme. Thanks wallbb, much love
(2017-02-07, 02:22 PM)

ForumDude Wrote: [ -> ]

My Review of WallBB's FocusResponsive Theme


Well, I was looking for a classy theme that was simple both in look and in functionality.  Took a look at the free version and after some off-line testing, decided that this was a theme that was actually WORTH something.  So, I purchased the paid theme.



POSITIVES:

This theme just looks awesome and classy.

Very inexpensive to purchase - you get a lot for a small fee (currently $20 I think - I'd suggest you get it while you can at that low price)

The theme developer (WallBB) was very helpful in fixing any issues that arose and distributing those fixes to paid customers.

Our forum members report that this responsive theme looks great on desktops, tablets & smartphones and that functionality is great.

If you want to customize the theme, that's pretty easy, and WallBB is here to answer any questions about how to do certain customizations.


NEGATIVES:

WallBB is a busy man, so if you have an issue, please be patient.  I had to wait a bit for him to resolve some issues (a few days), but I'm glad he took the time to do it right.  I'd rather have it done right and fully tested than have it done quickly in a slipshod manner.  Theme development takes time.

Our forum members reported that (even with the updates & looking at PMs and using the search results page) seeing all the "stuff" that's normally on a desktop PC isn't appearing on smaller mobile devices (smartphones).  But that didn't affect the usability of PMs or search, just the degree of detail that was displayed.  But there's the hard fact that on small devices, screen space is quite limited, and you're just not going to get the same amount of detailed information on a small device (and still make it readable).  Usually, simply using the device in horizontal (landscape) mode was enough to solve these issues.

I really can't think of any more major negative issues.


---
(2017-03-16, 06:46 PM)

BFFMediaInc Wrote: [ -> ]I bought this template and the service I received and help with other customization was amazing.



A-MAZ-ING!



The install instructions were exactly correct and the extra mods I needed were done fast and

very

reasonably priced and was given great advice on improvements and other ways to be successful.  I could not ask for a better relationship with Peter.


THANK YOU!

PS I'm happy to give a personal review of his services if you contact me here or my forum.
Regards
WallBB