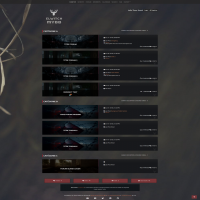 Elwitch Theme
ElwitchTheme is a theme for your mybb forum.
Change Log for Elwitch Theme
Version 4.3
stable
Build #5
RC 4.3

- The Logo header is now col-lg-6 width
- The Welcome Block is new look logout button
- Add new footer width and news options.
- Add Theme Options.
- Add LiteMode footer.
- Add new page theme-options.php ( stats,forumteam,litemode,version,copyright,rss...)
- Margin Top categories width fix.
- Translate auto forum (messages/threads/topiclastpost)
- New footer social icons for socials profiles.
- New Design input select buttons.
- New Design for posts in forum sections.
- The BG is now linked to free pictures : PEXELS
- The BG is now responsive, mobiles and others screens.
Version 4.2
stable
Build #4
- Add Theme selector/Language selector
- New footer ThemeSelector/Language and others..
- Fix and New design for catégories title.
- New Go to top and delete the gotop.png in assets.
- Fix Background stripes cards forum.
- Sujets > Subjects in english adding.

CHECK the new version : https://xboxfrance.fr/wordpress-one/forum/
Version 4.1
stable
Build #3
New version of the theme, old theme give up, nevertheless available for download.
Version 2.0
dev
Build #1
The first build has no changes.