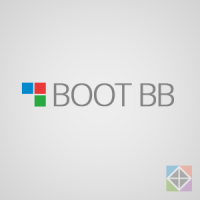 BootBB
A basic Responsive MyBB theme using Bootstrap 3
Change Log for BootBB
Version 2.7
stable
Build #10
- Added MyAlerts template myalerts_headericon to plugin compatiblity folder to improve Alerts button display (you need to edit myalerts templates)
- fixed MentionMe popup window position (see https://community.mybb.com/thread-206710...pid1332651 )
- fixed error messages on registration page (with help from wflynnnn)
- added captcha to Lost Password page.

- Important: This version of BootBB will work best with the 1.8.21 version of MyBB. If you use old version of MyBB, find an old build of BootBB that is compatible with it!


The only changes made since version 2.6 are to the following templates:
header_welcomeblock_member
footer
member_lostpw
member_register
Version 2.6
stable
Build #9
- several changes were made to templates to make them compatible with the recent release of MyBB 1.8.21
- BootBB is now compatible with MyAlerts plugin. See Intallation.rtf
- replaced '<</div>' with '</div>' in modcp_editprofile
- fixed UserCP buddies and ignore lists (textbox was shrinking after clicking away and back on it)
- one change was made to default.css to make toolbar of SCEditor smaller


Important: Mybb upgraded SCEditor, so you need to delete jscripts/sceditor folder entirely. See https://github.com/mybb/mybb/pull/3639#i...-480689866
After that, if you are using the dark SCEditor, you need to upload its two files from this package.
Version 2.5
stable
Build #8
- compatible with MyBB 1.8.20
- 'View New Posts' and 'View Todays Posts' moved from Misc to the main Menu. Also made them shorter in ougc_customlang.lang.php by removing 'View' from the string. 
- fix for animated stat counters on home page that stopped working with MyBB 1.8.20
- added "undo poll vote" link
- addes space after thread prefix (like "Poll: ")
- removed breadcrumb navigation when empty
- color improvements for darkbackground subtheme (new PM message and others)
- better display of calendar on small screens
- report popup missing 'Other reason' text field
- updated Installation.rtf with Upgrading instructions and 'Thank You/Like' plugin integration instructions
- easier navigation in threads for screen readers (h1 tags)
- some minor bugfixes


Version 2.4
stable
Build #7
* Fixed login bug
* Fixed file upload bug
* Added dark background color scheme
* Other minor issues and enhancements
* Added language support for custom theme strings.
  Important! The theme now requires additional language file. Read instructions in Installation.rtf!
Version 2.2
stable
Build #5
* Bootstrap and Font-Awesome links changed from local to CDN links.
* Missing Image restoration
Version 2.1
stable
Build #4
* Local Fontawesome reference.
* Template fixes for 1.8.15.
* Forumbit Alignment fix.
Version 2.0
dev
Build #3
* Templates are complete tableless.
* Minor bug in Portal page fixed.
* Minor bug in ModCP Page Fixed.
* ForumBit Template/Outline Changed.
* Logo Updated with PNG File, PSD Included.
* 10 Color Schemes added in Admin CP.
Version 1.0
dev
Build #2
* Fixed Portal Page Columns
Version 0.1
dev
Build #1
The first build has no changes.