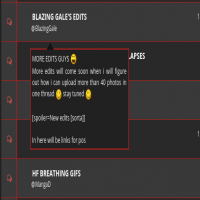 Thread Preview
Displays a preview box of the thread content when hovering over the subject in the forum display.
Change Log for Thread Preview
Version 1.3
stable
Build #4
- Truncante text output after parsing instead of before, so that MyCode tags don't show up unparsed and cut off.
- Don't parse images and videos for faster parsing and page loading.
Version 1.2
stable
Build #3
Added a setting in the Admin CP for the maximum characters to display in the thread preview box.
Version 1.1
stable
Build #2
* I had submitted old code in the first build by mistake.
Version 1.0
dev
Build #1
The first build has no changes.