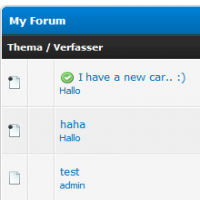 Mark Thread as done/solved - 1.8.x
Topics can be marked as done by authorized users.
Change Log for Mark Thread as done/solved - 1.8.x
Version 2.2.1
stable
Build #3
Bug fixing:

- If you deactivated and reactivated the plugin, the settings group was rewritten into the database. So the settings were displayed more than once under "Configuration". This bug has just been fixed in this version.
--------------------
Fehlerbehebung:

- Wenn man das Plugin deaktiviert und wieder aktiviert hat, wurde die Settings-Gruppe neu in die Datenbank geschrieben. Somit wurden die Settings häufiger als einmal unter "Konfiguration" angezeigt. Dieser Fehler wurde in dieser Version soeben behoben.

Version 2.2.0
dev
Build #2
- A small formatting error in the admin CP was fixed.
- The settings have been extended. It is now possible to select forums in which topics can be marked as done. (Forums can be excluded)

Version 2.1.1
stable
Build #1
The first build has no changes.