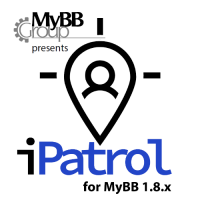 iPatrol
Automate the control over the visitors of your MyBB site
Change Log for iPatrol
Version 1.1.1
stable
Build #3
Bug fix release. Please update!
Version 1.1.0
stable
Build #2
This version (1.1.0) includes:
Ability to whitelist IP addresses to skip ban.


Ability to define usergroups allowed to use proxy.


Ability to restrict usage of disposable email ids.


Ability to monitor posts of defined usergroups for spamming (link + phrase) and auto unapprove them, also covers 

late edit spamming

.


Some structural improvements in settings page.


Code cleanup.

Version 1.0.0
stable
Build #1
The first build has no changes.