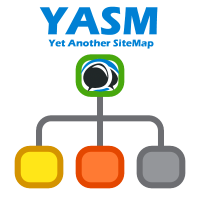 Yet Another Sitemap Plugin (YASM)
Create a sitemap for your forum and update it with the frequency you want
Change Log for Yet Another Sitemap Plugin (YASM)
Version 1.3.1
dev
Build #5
- Bug Fix of SQL Error: 1064 when an empty subforum is in the main forum. Thanks to kacnje

- Minor bug fix of the installation Modal Window.
Version 1.2
dev
Build #3
Added new hook to create the sitemap.xml file when the settings are changed (if it didn't exist before).

Minor fixes (Fixed and reordered part of the code).

Clarified the steps to use the plugin in the README.txt file and in the Modal Window message.

Added "Settings" responsive link in the Active Plugin list.

Version 1.1
dev
Build #2
1.1 (April 2020)

- Bug with reserved word fixed. Thanks to arhavili & Crazycat
Version 1
dev
Build #1
The first build has no changes.