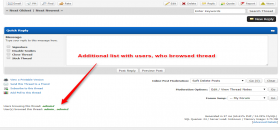 Users Browsed Topic
This plugin show users who browsed thread.
Change Log for Users Browsed Topic
Build #6
stable
Version 1.3
* Fix comma/whitespace bug (fix #4)
* Add exclusion for invisible users
* Update author info
Build #5
stable
Fix no data show issue.
Build #4
stable
Version 1.2
* Linguistic changes by wldev1
* Add collect data mode (last or first visit)
Build #3
stable
Version 1.1.1
* fix SQL bug (no default select value)
* fix date info on hover (invalid variable name)
Build #2
stable
Version 1.1.0
* add option to display last visit time on mouse hover
* add option to sort list by username, UID, GID and visit date
* small changes in locale
Build #1
stable
The first build has no changes.