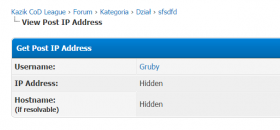 Moderator Hidden IP
A simple plugin that allows an administrator to choose whose ip addresses will be hidden for any action connected with Moderator Control Panel.
Change Log for Moderator Hidden IP
Build #4
stable
- Repaired bug which was hiding guests' ip addresses.
Build #3
dev
- Added functionality of searching IP by private messages
- Some code fixes
Build #2
dev
Added removal of modoptions template which had some stupid links.
Build #1
dev
The first build has no changes.