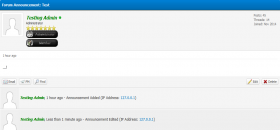 Moderation Actions Preview
Displays moderation actions sorted by date in posts/announcements/profiles/User CP (github-like).
Change Log for Moderation Actions Preview
Build #2
stable
- added logs connected with user to view in User CP (and a setting to display them regardless of group permission) - thanks to prings for suggestion
- fixed wrong variable for announcement avatar max size
- added some padding to the postbit row template by default
Reinstallation is required.
Build #1
stable
The first build has no changes.