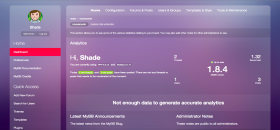 Whisper for ACP
A flat theme for MyBB's ACP.
Change Log for Whisper for ACP
Build #3
stable
Addressed an issue which prevented rows activated with MyBB's peeker to be displayed correctly. Also compressed the main CSS file, now 20% lighter.
Build #2
stable
Corrected the structure (Chart.min.js was in /jscripts instead of /admin/jscripts).
Build #1
stable
The first build has no changes.