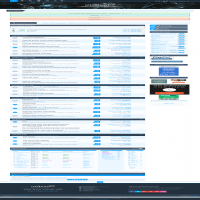 NetPen Theme
Free Responsive MyBB Theme - NetPen
Change Log for NetPen Theme
Version 2.2
stable
Build #8
Updated to latest 1.8.15
Version 2.1
stable
Build #7
A few bugs and issues reported by our users are corrected.
Version 2
dev
Build #6
This build is 100% compatible with MyBB 1.8.10.

Many things have been changed and redesigned based on feedback and issues reports from NetPen Theme users in a last few months.

Build #5
dev
This is a Major update, because we have redesigned almost everything.

- Now all the forms are fully supported in mobile view ... and lot, lot more.
- UCP and MCP menu are now moved to sidebar that is collapsible.
- We have added Announcements, Social share buttons, Quick search on index page, all the images (ecept post icons) are replaced with font Awesome icons.
- Now Bootstrap 3 is fully implemented with the minimum of overrides ...
- Since NetPen uses Bootstrap Framework, Glyphicons are supported too.
- Almost 90% of tables are turned into divs ...
- portal.php, memberlist.php, private.php, stats.php, member profile etc ... these are all 100% responsive now and redesigned too.

Theme Documentations are included now too.

This is MyBB 1.8.8 compatible Theme version.
Once again, thank you so much for using NetPen theme.
Build #4
stable
A few styling and content adjustment requested by MyBB Community members.
Build #3
dev
Changes:

- Added three more Color Combinations.

- Added Theme version with Sliding Sidebar on index page.

- Improved responsive appearance.

- Improved Fotn styling (sizes etc)

- global.css splited in more CSS files, in order for better performance and to avoid global.css editing error.
Build #2
stable
Well after I submitted NetPen Theme I found that a few lines of codes in global.css are missing, related to Classic View option.

I have also fixed the width of User CP Nav Menu.
Build #1
dev
The first build has no changes.