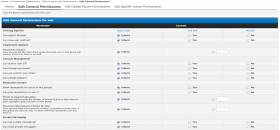 Custom User Permissions
Apply permissions to specific users instead of just usergroups.
Change Log for Custom User Permissions
Build #3
stable
Fixed a bug with text not appearing when using PHP 7. To upgrade, reupload ./inc/plugins/customuserperms.php and ./admin/modules/user/customuserperms.php.
Build #2
stable
Prepping for Mods Site
Build #1
stable
The first build has no changes.