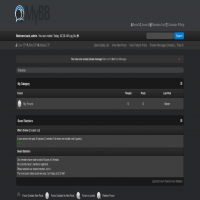 MyBB Dark
MyBB Dark is a twist of the default MyBB theme in that everything is darkened.
Change Log for MyBB Dark
Version 0.5
dev
Build #5
Updated Copyright link in footer
Version 0.4
dev
Build #4
This update fixes a bug with models such as login and the emoji chooser that were dropping to the bottom of the page.
Version 0.3
dev
Build #3
Bug fixes regarding the usage of expanders were applied, all expanders across the entire theme should look the same now, Font Awesome has become more integrated and has been used more.
Version 0.2
dev
Build #2
A lot of design errors and enhancements have been made to the theme. Additional enhancements to the theme have been made through the use of Font Awesome. As the theme is further developed, Font Awesome will be integrated even further into the design.
Build #1
dev
The first build has no changes.