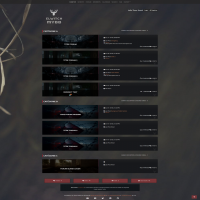 Elwitch Theme
ElwitchTheme is a theme for your mybb forum.
License for Elwitch Theme - Attribution-NonCommercial-ShareAlike 4.0 International (CC BY-NC-SA 4.0) and Copyright
Attribution — You must give appropriate credit, provide a link to the license, and indicate if changes were made. You may do so in any reasonable manner, but not in any way that suggests the licensor endorses you or your use.
NonCommercial — You may not use the material for commercial purposes.
ShareAlike — If you remix, transform, or build upon the material, you must distribute your contributions under the same license as the original.
NOT REMOVE THE 2 COPYRIGHTS in footer !
Beware of licenses :
It is not allowed to remove copyright from the forum, it is strictly forbidden to sell, share or any other commercial use, its use is limited to communities, however any changes must make the act of a return to the creators, I do not authorize any copies or commercial use or sharing of this software.
This theme currently consists of a non royalty-free creative commons license and two copyrights.
Only the author ( myself) is authorized to share it, you can nevertheless use it on your personal sites, but must not undergo any modifications, nevertheless if modifications are to be made please write to us at:
[email protected]
, this theme is free.
Copyright France
http://www.copyrightfrance.com/certificat-depot-copyright-france-MCHA1J1.htm
Copyright Belgium
http://copyright.be/copyright/certificat_depot_copyright.html?numdepot=DEP636528595496061317&sct=EGAMESTUDIO