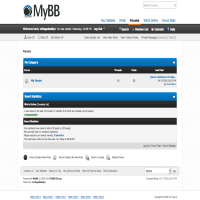 Comm
This theme for MyBB enthusiasts is made to be similar to the MyBB Community forum theme background width and image as well as side padding and as well as the toplinks moved to panel upper and quicksearch moved to top.
License for Comm - General Usage
You may not remove or change the MyBB copyright nor the Designed by: "Vintagedaddyo" statements in the footer of this theme's templates. You may use and modify this theme to your personal likings, but redistributing a modified version for download is prohibited, unless you have explicit written permission from "Vintagedaddyo", though you are allowed to redistribute a copy that has not been modified.