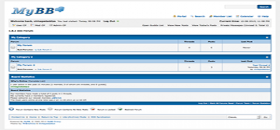 Classic
This a simple theme based on the old classic theme for MyBB enthusiasts.
License for Classic - General Usage
You may not remove or change the MyBB copyright nor the Designed by: "Vintagedaddyo" or "MrBrechreiz" statements in the footer of this theme's templates. You may use and modify this theme to your personal likings, but redistributing a modified version for download is prohibited, unless you have explicit written permission from "Vintagedaddyo" or "MrBrechreiz", though you are allowed to redistribute a copy that has not been modified.