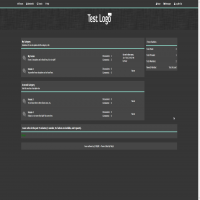 Impulse Dark
Impulse Dark is the sister theme of Simple MyBB Variant Theme
Project Details
About
I had created this theme as light in the past and after 1,400 downloads and countless requests for this theme in dark, I have done just that. In the process of the dark theme I have made many new changes to the index layout, postbit and profiles. A lot of useless code has been removed and a lot of merging has taken place. You can read all about the development on the official Work In Progress (WIP) thread by clicking here; 
https://community.mybb.com/thread-212094.html
Support Us & Get Help!
- If you come across issues please report them to the bug tracker.
- Any suggestions are appreciated and can be submitted for review.
- If you encounter general problems we'll support you with ease.
- If you like the theme please give it a star to show your support.
Contact Me!
Message me on the MyBB Community -
link
Send me a Tweet on Twitter -
link
Want it in light?
Why not try out the light version?
Link: 
https://community.mybb.com/mods.php?action=view&pid=959
Author

Collaborators

None

Version

1.3

Submitted

2017-09-27, 09:34 PM

Last Updated

2018-07-13, 10:05 AM

Bug Tracking

Open

MyBB Versions

1.8.x
Support this Project's Development