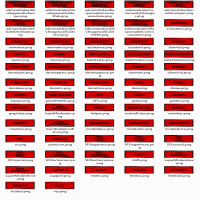 FirstBlood User Groups
User groups images made for games servers - 200x80px + PSDs + Fonts - EN + FR(masculin & féminin)
Project Details
I made some graphics for our (me and my friends) GMod server. But I want to let anyone use them, in this context I made more GFX to suits many cases.
The archive contain the folder you can "extract here" directly without the "problem of many files".

These ranks described like:
English
 French masculine
 French feminine
Administrator Website Developer
 Administrateur Développeur du site web
 Administratrice Développeuse du site web
Administrator Server Developer
 Administrateur Développeur du serveur
 Administratrice Développeuse du serveur
Administrator Community Manager
 Administrateur Responsable communautaire
 Administratrice Responsable communautaire
Developer
 Développeur
 Développeuse
Tester
 Testeur
 Testeuse
Beta-Tester
 Bêta-Testeur
 Bêta-Testeuse
GFX (Graphics)
 Graphiste
SFX Sound Effects
 Ingénieur du son
 Ingénieure du son
SFX Special Effects
 Technicien en effets visuels
 Technicienne en effets visuels
Head Moderator
 Super modérateur
 Super modératrice
Moderator
 Modérateur
 Modératrice
Staff
 Équipe
Support
 (as like as in french)
Helper
 Assistant
 Assistante
Game Master
 Maître du Jeu
 (Not used in feminine)
Animator
 Animateur
 Animatrice
Diamond
 Diamant
Gold
 Or
Golden
 Doré
 Dorée
V.I.P.
 (as like as in french)
Premium
 (as like as in french)
Donator
 Donateur
 Donatrice
Trusted
 Membre de confiance
Member
 Membre
Banned
 Banni
 Bannie
If you have any ideas or want to share translated texts (because in some case, we do not use the same word just translated in another language), feel free to post suggestions.

Author

Collaborators

None

Version

1.0.1

Submitted

10-07-2017, 09:30 PM

Last Updated

10-18-2017, 08:51 PM

Bug Tracking

Disabled

MyBB Versions

1.8.x
Support this Project's Development