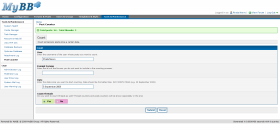 Post Counter
Count someone's posts since a certain date.
Project Details
This plugin is not officially supported by me anymore. We have closed our official MyBB-Plugins.com website and do not provide support for any of our plugins. All premium plugins have been made available for free. Use at your own risk.
Description
This plugin counts the number of posts and threads of a certain user since a certain date.
This might be helpful for post two "something" websites or contests where users must post to get something.
Changes

1.2
- Added Compatibility with MyBB 1.8
1.1
- Added Compatibility with MyBB 1.6
- Changed license to GPLv3
Author

Collaborators

None

Version

1.2

Submitted

2014-08-17, 04:45 PM

Last Updated

2021-10-04, 09:06 AM

Bug Tracking

Disabled

MyBB Versions

1.8.x
Support this Project's Development