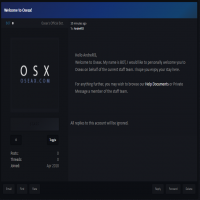 Welcome PM
Sends a PM to newly registered users.
Project Details
This plugin allows you to send a PM to newly registered users. The plugin will allow you to customise who sends the PM, the subject, and message. 
Changelog
You can view the full change log here - 
link
Support us and get help
 - If you come across issues please report them to the bug tracker.
 - Any suggestions are appreciated and can be submitted for review.
 - If you encounter general problems we'll support you with ease.
Credits
An official release from Wires.
Contact Me
Message me on the MyBB Community - 
link
Add me on Discord:

 Wires

#2306
Author

Collaborators

None

Version

2.00

Submitted

2018-05-14, 01:17 AM

Last Updated

2018-05-14, 01:31 AM

Bug Tracking

Open

MyBB Versions

1.8.x
Similar Projects
No similiar projects have been found.