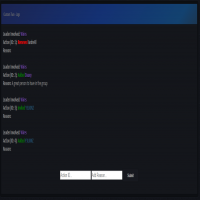 Group Leader Logs
Provides logs to group leaders about their own group.
Project Details
This wonderful plugin allows group leaders to view what's happening in their group. Leaders can also add reasons to entries within the log. The logs include:
Added Users


Invited Users




Removed Users



Group Leaders can access the page via domain.com/grouplogs.php?gid=groupidhere
Changelog
You can view the full change log here - 
link
Support us and get help
 - If you come across issues please report them to the bug tracker.
 - Any suggestions are appreciated and can be submitted for review.
 - If you encounter general problems we'll support you with ease.
Credits
An official release from Wires.
Credit to xadamxk for the idea and suggestion.
Contact Me
Message me on the MyBB Community - 
link
Add me on Discord:

 Wires

#2306
Author

Collaborators

None

Version

1.20

Submitted

2018-05-20, 06:38 PM

Last Updated

2018-05-22, 07:49 AM

Bug Tracking

Open

MyBB Versions

1.8.x