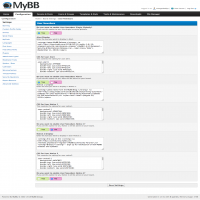 Usernewsbars
Add three "MyBB Community like" newsbars to the header_welcomeblock_member template of your forum for users visibility
Project Details
simply quickly created during a reply here:
https://community.mybb.com/thread-218621...pid1320909
* can be used with:
https://community.mybb.com/mods.php?acti...w&pid=1202
User Newsbars
Add three "MyBB Community like" newsbars to the header_welcomeblock_member template of your forum for users visibility
A rather simple plugin to create 3 "MyBB like" newsbars on your board with the option to display globally or not. You can edit the text as well as the css styling for each of the three newsbars. Note: you can disable any or all of the news bars and you can opt to display globally or not....
To Install:
Upload The Files, And Go to Admin CP And Activate!
** Localization Support:
- english
- englishgb
- espanol
- french
- italiano
Github:
https://github.com/vintagedaddyo/MyBB_Pl...ernewsbars
Author

Collaborators

None

Version

1.0

Submitted

12-24-2018, 07:14 PM

Last Updated

12-25-2018, 04:32 PM

Bug Tracking

Disabled

MyBB Versions

1.8.x
Similar Projects
No similiar projects have been found.
Support this Project's Development