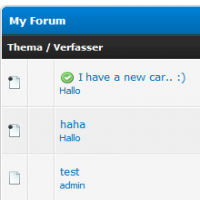 Mark Thread as done/solved - 1.8.x
Topics can be marked as done by authorized users.
Project Details
Found bugs or errors? Just write me a PN!
With Michael's permission from MyBB.de, I have added the following functions / points to the plugin "Mark thread as done":
- This plugin allows specific user groups to mark topics as done!
- CSS buttons added instead of graphics in the Threadview
- Texts for the buttons (solved/unsolved) are selectable freely in the Admin-CP
- Select whether thread authors are allowed to mark their own topics as solved/unsolved.
- Select which groups (e.g. admin and mods) are allowed to mark threads as solved/unsolved.
- Plugin completely translated into English with language files.
- It is possible to select forums in which topics can be marked as done. (Forums can be excluded)
----------------------------
Mit Einverständnis von Michael, von MyBB.de habe ich das Plugin "Thread als erledigt markieren" um folgende Funktionen/Punkte erweitert/abgeändert:
- Dieses Plugin ermöglicht es, dass bestimmte Benutzergruppen Themen als erledigt markieren!
- Statt Grafiken in der Threadview CSS-Buttons hinzugefügt
- Texte für die Buttons (Erledigt & Nicht erledigt) sind im Admin-CP frei wählbar
- Wähle aus, ob Threadersteller eigene Themen als erledigt markieren dürfen.
- Wähle aus, welche Gruppen (bspw. Admin und Mods) Threads als erledigt markieren dürfen.
- Plugin komplett in Englisch übersetzt mit Language-Dateien.
- Es ist möglich, Foren auszuwählen, in denen Themen als erledigt markiert werden können. (Foren können ausgeschlossen werden)
Author

Collaborators

None

Version

2.2.1

Submitted

2019-03-07, 06:29 PM

Last Updated

2020-06-21, 05:01 PM

Bug Tracking

Disabled

MyBB Versions

1.8.x