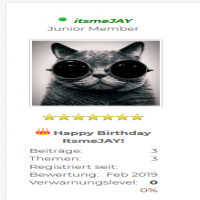 Show Birthday in Posts and congratulate PM - 1.8.x
Show in post whether a user has birthday.
Project Details
Simple plugin. See screenshot.
If the user has birthday today and has activated "Show birthday + age" in the settings, the birthday will be displayed in every post for today.
It is also possible to congratulate the user via PN.
----- Credits Start -----
Default Icons:
"letter"-Icon made by
iconixar
from
www.flaticon.com
"Cake"-Icon made by
srip
from
www.flaticon.com
Info: the icons can be easily exchanged and your own can be used.
----- Credits End -----
Author

Collaborators

None

Version

2.0

Submitted

03-31-2019, 08:36 PM

Last Updated

08-04-2019, 09:40 AM

Bug Tracking

Disabled

MyBB Versions

1.8.x