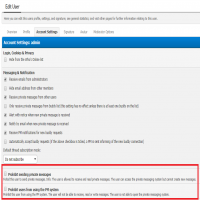 Prohibit private messages for specific users
Prohibit individual users from sending private messages or using the private messaging system.
Project Details
English:
With this plugin you can ban
single
users from private messages. You can set whether ...
the user is no longer allowed to send messages 

or 
the user may no longer use the complete private messaging system

If you choose variant 1, an additional info text is displayed for the affected user. This text can be freely adapted. If you don't want to display any text, you can easily set this as well. Take a look at the screenshots for more details.
--------------------------------------------------------------------------------------------------------------
German:
Mit diesem Plugin kannst du
einzelne
Benutzer für private Nachrichten ausschließen. Du kannst einstellen ob ...
der Benutzer keine Nachrichten mehr versenden darf 

oder 
der Benutzer das komplette Private-Nachrichten-System nicht mehr benutzen darf

Wenn du dich für Variante 1 entscheidest, wird zusätzlich ein Info-Text für den betroffenen Benutzer angezeigt. Dieser Text lässt sich frei anpassen. Wenn du keinen Text anzeigen möchtest, lässt sich auch dies ganz einfach einstellen. Schau dir die Screenshots an für genauere Vorstellungen.
Author

Collaborators

None

Version

1.0.0

Submitted

2019-04-21, 10:50 PM

Last Updated

2020-06-21, 05:00 PM

Bug Tracking

Open

MyBB Versions

1.8.x
Latest Builds