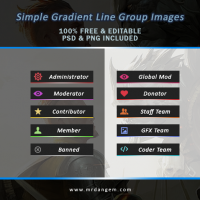 Simple Gradient Line Group Images
This project includes ranks group images for your forum with additional bonus group class
Project Details
Hello Everyone! I'm proud to present to you my new simple rank group image
. 
Simple Gradient Line Group Images
 is made with Photoshop, looks great for any kind of theme and you can freely customize it for your forum. Hope you guys enjoy and make awesome stuff with it. 
Please don't forget to share this resource! it means a lot to me!
Group Image Package
Administrator

Global Mod

Moderator

Donator

Staff Team

GFX Team

Coder Team

Contributor

Member

Banned

Download Included
PSD of group images

PNG of group images

Contact
Message me on the MyBB Community - 
link
Contact me on my Blog - 
link
My Other Group Images
Support Creator
If you find any joy and value in what I do, please consider giving whatever you feel is appropriate, 
between a cup of coffee and a good snack. - 
link
Note:
Previous versions are still stable, you can still download it and compare to the latest version.
Change Log
v3 Thicker Gradient line
v2 Remove the Light Version because it ruined the original idea and design.
v1 Light and Dark Version
Author

Collaborators

None

Version

2

Submitted

2019-05-01, 04:10 AM

Last Updated

2019-05-06, 01:41 AM

Bug Tracking

Disabled

MyBB Versions

1.8.x
Support this Project's Development