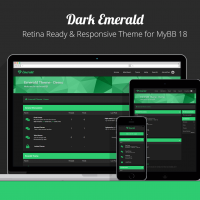 Dark Emerald
Fully responsive, modern & multicolor theme for MyBB 1.8 (Documentation included)
Project Details
Emerald is a one of the best free themes for MyBB 1.8
Live demo :
https://developement.design/demo/emerald/
(The default theme on the demo forum corresponds to the light version, go to "Edit Options" in User CP then change the theme to "Dark Emerald")
Light version :
https://community.mybb.com/mods.php?acti...w&pid=1037
Documentation included in download
Important : We noticed that many forums removes copyright, which is forbidden by copyright laws. Please go to this thread if you want a copyright removal (=>
https://developement.design/forum/Thread...ht-removal
). Otherwise, we'll not hesitate to contact your host to get you suspended.
(The dark version of Emerald Extended will be available soon)
Features :
Clean & Modern

Fully Responsive & Retina Ready

CSS Animations

Google Fonts

Font Icons

Social Icons

No MyBB Images

Custom Postbit

Removable/Customizable Sidebars

Fixed & Beautiful Header

Free Updates

Free Support

And more !

Website :
https://developement.design/
Skype : ef.team
Email :
[email protected]
(for business only)
You can help us with a donation and support our contributions, this will encourage us to give much more freebies

For issues :
https://developement.design/forum/forumd...php?fid=12
Author

Collaborators

None

Version

1.0

Submitted

09-04-2019, 10:19 PM

Last Updated

09-04-2019, 10:27 PM

Bug Tracking

Disabled

MyBB Versions

1.8.x
Latest Builds