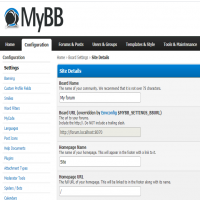 Envconfig
Overwrite settings through environment variables
Project Details
Envconfig is a plugin for MyBB to overwrite settings using environment variables. This is especially useful when you want to run a copy of your forum installation in different environments (think production vs local development).
See https://github.com/ligustah/mybb-envconfig for full README
Author

Collaborators

None

Version

1.0

Submitted

2020-01-09, 04:50 PM

Last Updated

2020-01-09, 04:53 PM

Bug Tracking

External

MyBB Versions

1.8.x
Latest Builds
Similar Projects
No similiar projects have been found.