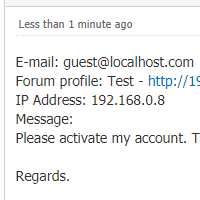 OUGC Contact Thread
Creates a forum thread instead of emailing a contact message.
Project Details
🚀 About
OUGC Contact Thread is a MyBB plugin designed to streamline communication on your forum. With this easy-to-use script, whenever a user submits a message via the contact form, a dedicated thread is automatically created within a specified forum. By redirecting contact messages to the forum, the plugin reduces the volume of emails sent, making communication more efficient and organized.
➕ More Information
You can find more information in the plugin
GitHub repository
or the official OUGC.Network
web page
.
Author

Collaborators

None

Version

1.8.33

Submitted

2020-05-02, 09:01 AM

Last Updated

2023-11-21, 11:33 PM

Bug Tracking

External

MyBB Versions

1.8.x