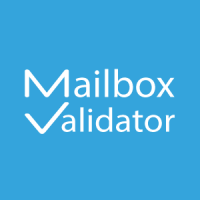 MailboxValidator Email Validator
This plugin validates and block unwanted emails from signing up using MailboxValidator API service.
Project Details
This email validation plugin enables user to reduce invalid sign up by detecting disposable email, or free email from using your services. 
This plugin need a MailboxValidator API key to work.You can sign up for a
free API key
at mailboxvalidator.com, that will provide you to validate up to 300 emails every month for free!
Key Features
Block invalid email.

Block disposable email.

Block free email.

Author

Collaborators

None

Version

1.0.0

Submitted

2020-05-28, 07:01 AM

Last Updated

2020-05-29, 09:00 AM

Bug Tracking

Disabled

MyBB Versions

1.8.x
Latest Builds