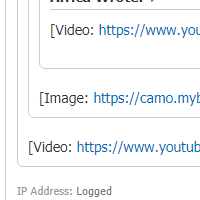 OUGC Disable Quotes Media
Convert image and video embeds inside quotes to links.
Project Details
🚀 About
OUGC Disable Quotes Media effortlessly enhances readability by converting image and video embeds within quoted content into convenient links, preventing clutter and improving the overall aesthetic of your forum. Say goodbye to messy threads and hello world to a more organized and visually appealing discussion platform with clutter-free posts.
➕ More Information
You can find more information in the plugin
GitHub repository
or the official OUGC.Network
web page
.
Author

Collaborators

None

Version

1.8.33

Submitted

2020-08-15, 11:38 PM

Last Updated

2023-11-21, 11:36 PM

Bug Tracking

External

MyBB Versions

1.8.x