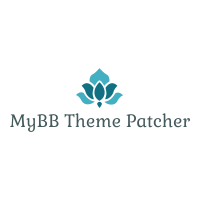 Theme Patcher (Authorization Mismatch Errors)
Automatically resolves authorization mismatch errors on older MyBB themes.
Project Details
This plugin attempts to resolve "authorization mismatch errors" that occur on certain themes. These are necessary on any theme that was designed for MyBB 1.8.16 or older. If you encounter this error code, this should restore login functionality on your forum!
Please note that this plugin cannot fix any
non-login
related issues on your forum. It can
ONLY
patch authorization mismatch errors. If you encounter any additional problems upon installing an older theme, these issues will need to be patched manually.
TO INSTALL:
- Upload the contents of the Upload folder to your forum root.
- Activate (ACP -> Plugins)
- Your themes will now be patched! You may safely deactivate.
If your forum's logins are completely broken, you may still access your admin control panel by visiting http://example.com/admin. This will allow you to activate this plugin. 
Note: It is always good practice to backup your database (or export your theme) before running any plugin that modifies your templates. Although we have tested this thoroughly, it is merely a best-faith effort to patch as many themes as possible. We cannot guarantee this will work on every single theme! 
- See Readme for more details.
- Kindly translated to German courtesy of @tc4me from
https://autism4all.at

Github Link:
https://github.com/Darth-Apple/MyBB-Theme-Patcher
Author

Collaborators

None

Version

1.0

Submitted

2020-10-23, 09:28 PM

Last Updated

2020-10-26, 01:53 AM

Bug Tracking

Open

MyBB Versions

1.8.x
Latest Builds
Similar Projects