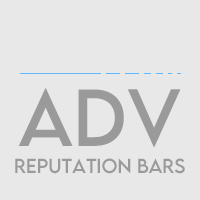 Advanced Reputation Bars
Create and customize reputation bars
Project Details
This plugin derives from @Darth-Apple 's plugin originally named "Simple Reputation Bars" and is forked from the respective GitHub Repository of that same plugin.
You can report bugs and issues or view versioning through the GitHub repo: 
https://github.com/Xazin/Advanced-MyBB-Reputation-Bars
This plugin allows you to create progress bars based on users' reputation level on their posts (below their avatars). The plugin is safe for live installations and has been tested on a clean and default MyBB installation.
The plugin comes with 3 predetermined (sample) reputation bars, feel free to delete them, they simply showcase the logic behind the reputation bars.
Images: 
https://imgur.com/a/vW5ooK0
Author

Collaborators

None

Version

2.1

Submitted

2021-01-02, 08:13 PM

Last Updated

2021-01-09, 03:16 PM

Bug Tracking

External

MyBB Versions

1.8.x