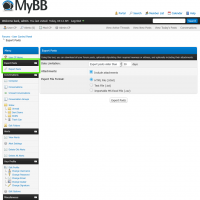 Export Posts
Provides members with a tool to export their posts, optionally including attachments.
Project Details
Export Posts is a plugin for MyBB 1.8. It adds to the User CP a tool for members to download their posts, optionally including attachments. Its interface is heavily based on the core interface for downloading private messages.
Requirements
The PHP zip extension
, and in particular its
ZipArchive class
. Without this class, post attachments cannot be downloaded along with posts.
Installation
Download the zip archive.

Extract its files.

Copy (recursively) the files under "root" into your forum's root.

Install+activate the plugin via the ACP's Plugins page.

Configure the plugin in the ACP under

Settings

->

Plugin Settings

->

Export Posts



Licence
Export Posts is licensed under the GPL version 3.
Maintainers and credits
Export Posts was originally authored by
Laird
to be maintained by the unofficial
MyBB Group
.