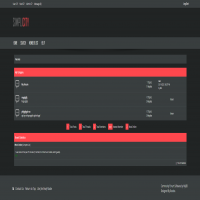 Simplicity Dark Responsive Theme
A flat and simple responsive premium theme for free!
Project Details
SIMPLICITY
A Flat & Responsive MyBB Theme
Features
Sleek and Flat Look
Eye-Candy Color
Responsive & Clean Design
Custom Editor
Custom Tabbed User Profiles
Clean Navigator
Smooth "back to top" scroll
Smart Mini Statistics
Works on all mobile devices
Index
Forum view
Profile view
Thread view
The theme author is
Raees
with the original theme submission
https://community.mybb.com/mods.php?acti...w&pid=1369
. The only change I have done is bringing the theme up-to-date for MyBB 1.8.26 and introduce the dark colors.