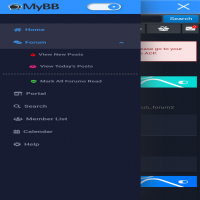 Responsive MyBB
The responsive version of MyBB's default theme with mobile friendly and with new look .
Project Details
!important

:- Please 1st install the plugin given in the theme folder then import or install the theme.
Responsive version of MyBB's default theme.
features added :- 
sidebar navigation menu in mobile version .

added font icons as postbit icons in mobile version .

dark/light switching option .

background images appears in forumlist in index on hover.

Attractive memberlist styling.

For multiple background color on thead 
you just have to edit the bar.css
you should know your forum_cat_id to have this look...
to know the forum_cat_id just click any of your forum or forum_category then you can notice in your forum url looks like this , alternatively you can have your forum_id from your admin cpanel in forum section just by clicking forum names there you can notice the forum id written as forum-fid in url.
https://website.com/forum-1.html
https://website.com/forum-2.html
after identify your forum id in bar.css
.bar(your forum id) .thead {
background-image: url(images/swirl.png), give a color.
}
for example :-
.bar1 .thead {
background-image: url(images/swirl.png), linear-gradient(to right, #85e5e1, #01dbd4);
}
Author

Collaborators

Version

1.4.1

Submitted

2021-08-09, 03:07 PM

Last Updated

2023-05-06, 02:08 PM

Bug Tracking

External

MyBB Versions

1.8.x
Support this Project's Development