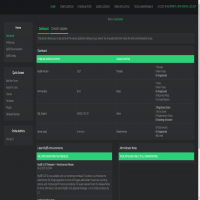 Nova ACP Theme
A dark theme for the admin control panel.
Project Details
This theme is NOT responsive, I only needed a dark theme quickly and didn't need to use it on my mobile devices.
To change the branding colour, open the admin/styles/nova/main.css file and change the --brand-colour variable set at the top of the file.
Author

Collaborators

None

Version

1.3.20

Submitted

2021-08-31, 07:37 PM

Last Updated

2021-09-01, 02:46 PM

Bug Tracking

Disabled

MyBB Versions

1.8.x
Similar Projects
No similiar projects have been found.