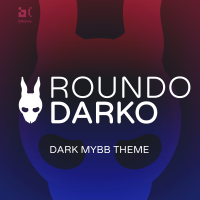 RoundoDarko - Theme Dark Modern MyBB (Responsive)
Roundo-Darko is a dark version of the Roundo theme. This theme gives a modern look to MyBB using a darker color palette.
Project Details

 Remember to give this project a star if you liked this theme after installing.

Roundo gives a new modern look to MyBB. The default and many extended themes offered by MyBB are not mobile-friendly and have fallen behind when it comes to web design trends as modern web design moves into a more minimal and flat direction. With this project, I look to modify MyBB's template, bring its design up to date, and make it responsive. I also find many MyBB pages bloated with information and inputs; so my second goal is to declutter/minify information and simplify the UI to give a better forum experience. This design will make consistent use of round shapes as seen in buttons, box containers, text fields, and avatars hence the name Roundo.
Roundo Darko is an alternate theme based on the default (light) Roundo Theme. This theme maintains Roundo's modern forum design but uses a darker color palette. This is great for forum owners or users who prefer darker interfaces as they can be easier on the eyes.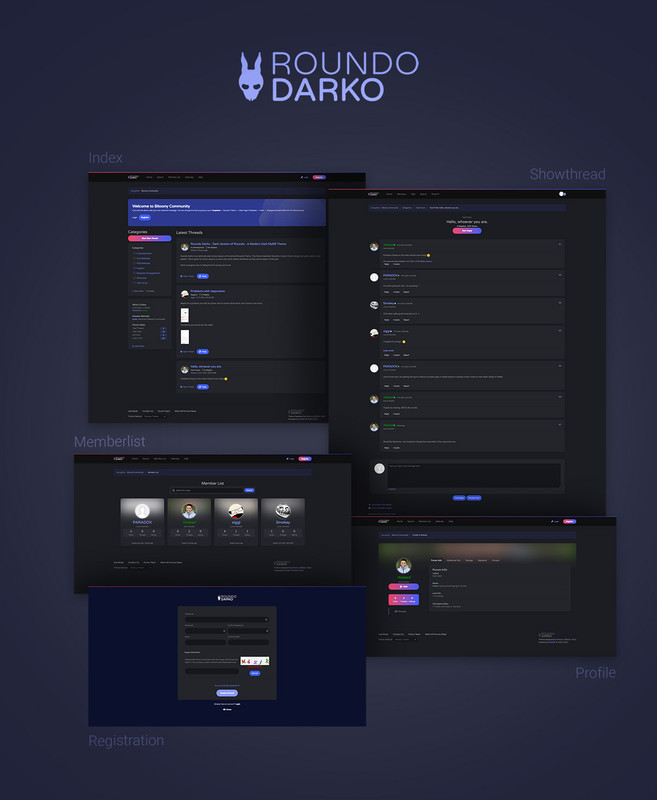 DEMO AVAILABLE
https://bitoony.com/community/index.php
*Scroll down to the Theme Selector and select Roundo-Darko Theme
*IMPORTANT NOTE:
Using this theme requires attribution. You must leave the attribute in the footer linking to Bitoony. By using this theme for your forum/website you agree to attribute the theme creator in the footer "Theme Designed by Bitoony" and a link to the creator's personal website.
The right to remove attribution can be purchased at
https://bitoony.com
Author

Collaborators

None

Version

1.04

Submitted

2021-11-03, 04:53 AM

Last Updated

2022-10-04, 07:34 PM

Bug Tracking

Disabled

MyBB Versions

1.8.x