RoundoDarko - Dark Modern Responsive MyBB Theme
Roundo-Darko is a dark version of the Roundo theme. This theme gives a dark, modern, responsive look to MyBB.
Project Details

 Remember to give this project a star to show appreciation
---

Theme By Rankifyer

This is Roundo Darko, a fresh and captivating theme designed exclusively for MyBB forums. Created by the talented team at Rankifyer, experts in SEO and digital marketing, this theme brings a touch of dark modernity to MyBB themes. If you are seeking professional SEO link building and guest post services for your forum or website, head over to
Rankifyer.com
.
Why We Made Roundo Darko
Rankifyer, with their extensive background in web design and UI/UX creation, recognized the need for a revitalized MyBB experience. While MyBB's default and extended themes have long served their purpose, they have fallen behind the curve in terms of mobile-friendliness and modern design trends. Roundo seeks to give MyBB a fresh and modern look.
One of the primary objectives behind Roundo's development was to declutter and simplify the user interface. Rankifyer noticed that many MyBB pages were weighed down by excessive information and inputs, creating a less-than-optimal forum experience. With this in mind, Roundo streamlines the UI, presenting a clean and minimalist design that focuses on enhancing the user's experience.
The name "Roundo" perfectly encapsulates the essence of this theme. Its defining feature is the consistent use of rounded shapes, which lend a visually pleasing aesthetic to buttons, box containers, text fields, and avatars. These rounded elements not only add a touch of elegance to the overall appearance but also contribute to a more cohesive and harmonious user experience.
Roundo Darko is an alternate theme based on the default (light) Roundo Theme. This theme maintains Roundo's modern forum design but uses a darker color palette. This is great for forum owners or users who prefer darker interfaces as they can be easier on the eyes.
Conclusion
Roundo Darko by Rankifyer is the solution for MyBB forum owners seeking a fresh and up-to-date design. With its mobile-friendly approach, simplified user interface, and modern design, Roundo breathes new life into MyBB.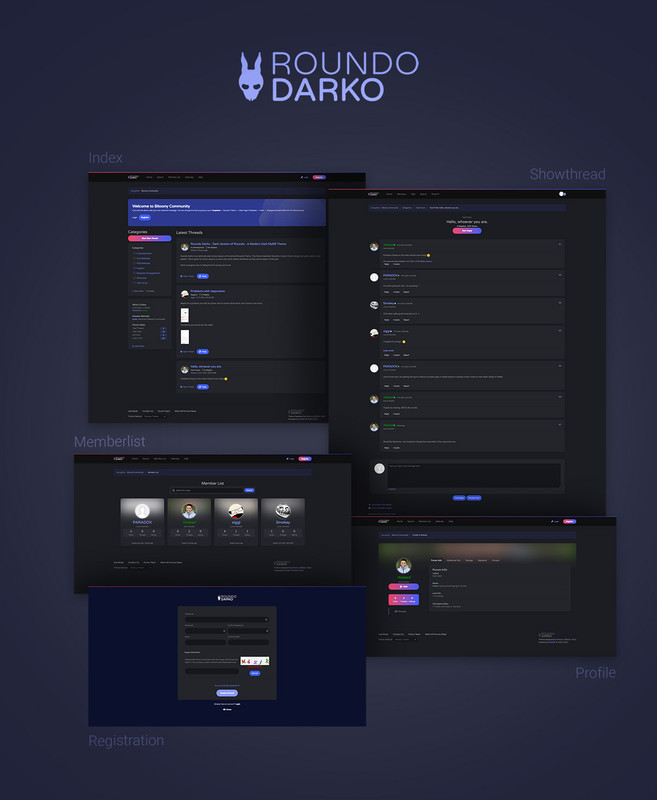 *IMPORTANT NOTE:
Using this theme requires attribution. You must leave the attribute in the footer. Steps to remove attribution is explained in the README file.
Author

Collaborators

None

Version

1.06

Submitted

2021-11-03, 04:53 AM

Last Updated

2023-07-02, 08:21 PM

Bug Tracking

Disabled

MyBB Versions

1.8.x