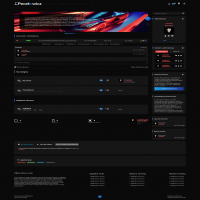 Elegant general dark and light theme
Elegant, General dark and light theme for mybb
Project Details
Elegant dark / light theme for MyBB. General theme template.
Layout design made by ARISovsky
This theme is an edit of Unikat Light Theme made by Kaya.
Additional information:
It is my first ever theme made for MyBB so theme might be bugged. It might be not finished in some places.
Release: 21.12.2022
Author:
Letaryat
Layout Author:
ARISovsky
Last update: 21.12.2022
Version: 1.0
MyBB Versions: 1.8.x
Tested on MyBB: 1.8.32
License: GPLv3
Language: Polish / English (Hardcoded text)
Demo: https://mybbdemo.pierdolnik.eu/
Resources used:
- Font awesome -
https://fontawesome.com/
- Google fonts (mainly Montserrat) -
https://fonts.google.com/
- W3Schools -
https://www.w3schools.com/
- New DVZ look by Tomik -
https://www.pecetowicz.pl/topic/nowy-wyg...bb-108080/
- Clipboard.js -
https://clipboardjs.com/
- Balloon.css -
https://kazzkiq.github.io/balloon.css/
Required Plugins:
-
Last Poster Avatar,
-
Communicator,
- Newest User,
Plugin supported:
- DVZ Shoutbox,
- Servers board,
- Top Stats,
- Communicator,
- Newest User,
-
New Theme functions
- Hovercards,
- SIN - Online Today,
Author

Collaborators

None

Version

1.1

Submitted

2022-12-21, 04:22 PM

Last Updated

2022-12-24, 01:11 PM

Bug Tracking

Open

MyBB Versions

1.8.x