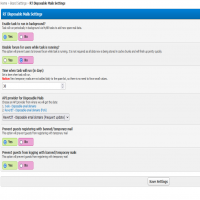 RT Disposable Mails (Ban Disposable/Spam via API)
RT Disposable Mails is a plugin which checks an external API to retrieve filtered spam mails and saves them into cache. Then check based on settings if user can login/register
Project Details
RT Disposable Mails
is a plugin which checks an external API to retrieve filtered spam mails and saves them into cache. Then check based on settings if user can login/register
Over 200k banned domains!
#Dependencies
MyBB 1.8.x

PHP >= 7.4.0 (Preferred 8.0 or above)

#Features
Using strict typing declaration.

Select API provider to use for Disposable/Spam mails source

Set time when task will run (in days)

Log actions of used blacklisted emails

Statistic page

Option to disable forum for users while task is running.

Prevent users with disposable mail to register

Prevent users with disposable mail to login

(If login method is set via mail)



#🎉 Contribute
Want to help with contributing new spam providers to the api list? Post it by
clicking here
.
#Installation
Copy the directories from the plugin inside your root MyBB installation.

Settings for the plugin are located in the "Plugin Settings" tab. /admin/index.php?module=config-settings

#Update
Deactivate the plugin.

Replace the plugin files with the new files.

Activate the plugin again.

#Removal
Uninstall the plugin from your plugin manager.


Optional:

Delete all the RT Disposable Mails plugin files from your MyBB folder.

#Feature request
Open a new idea by
clicking here
Author

Collaborators

None

Version

1.6

Submitted

2023-04-11, 11:20 AM

Last Updated

2023-05-20, 03:28 PM

Bug Tracking

External

MyBB Versions

1.8.x