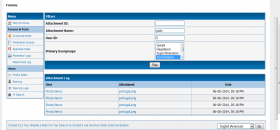 Attachment Downloads Log
Logs who downloads attachments.
Project Details
This plugin is not officially supported by me anymore. We have closed our official MyBB-Plugins.com website and do not provide support for any of our plugins. All premium plugins have been made available for free. Use at your own risk.
Description
Logs who downloads attachments. The name and if of the attachments are logged as well and the date of the download too.
You can choose which forums and groups are not logged.
Logs can be deleted manually and pruned.
Adds a section to the ModCP from which moderators can view all logs and filter them (it is not possible to delete or prune from ModCP).
Author

Collaborators

None

Version

2.1

Submitted

2014-08-21, 01:37 PM

Last Updated

2021-10-04, 09:16 AM

Bug Tracking

Disabled

MyBB Versions

1.8.x
Similar Projects
No similiar projects have been found.
Support this Project's Development