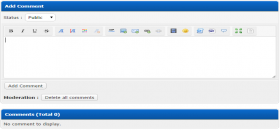 MyProfile
Enhances MyBB's default users profiles with comments, friend system and last visitors.
Project Details
Profile Comments :

Powerful profile comments that include the MyBB text editor, reply / approve / edit / delete features, Delete all moderation feature.

Public

/

Private

status, Ajax management and integration, flood time, edit time management and much more.


Last visitors :

Powerful mini last visitors template that displays the last visitors on a user's profile.


Buddy List :

Simple buddy list that displays a limited amount of a user's friends on their profile.

Powerful admin settings


Permissions :

Allow users to hide/show their profile to public.


ReferredBy :

Allow users to show who they were referred by in their profile.

Get involved
Author

Collaborators

Version

1.2

Submitted

2014-09-22, 10:40 PM

Last Updated

2016-03-20, 08:12 AM

Bug Tracking

External

MyBB Versions

1.8.x
Similar Projects
No similiar projects have been found.