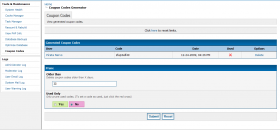 Coupon Generator
Allows admins to generate coupon codes to offer discounts for services.
Project Details
This plugin is not officially supported by me anymore. We have closed our official MyBB-Plugins.com website and do not provide support for any of our plugins. All premium plugins have been made available for free. Use at your own risk.
Description
This plugin adds a new page to your forums.
This page contains a button and whenever users click it, it generates a coupon code which is sent to the Administrator's inbox as well as to the user's inbox.
Generated Coupon codes are saved in the database and can be accessed from the Admin CP -> Tools & Maintenance -> Coupon Codes.
Comes with NewPoints compatibility, you can set a price users must pay each time they generate a coupon code.
Page: MyBBRoot/couponcodes.php - it doesn't add itself to the header. You'll need to add it to wherever you want by editing your theme's templates.
Upgrading
Upload the contents of the Upload folder to the root of your MyBB installation, overwriting existing files.
Author

Collaborators

None

Version

1.3

Submitted

2014-08-27, 10:37 AM

Last Updated

2021-10-04, 09:07 AM

Bug Tracking

Disabled

MyBB Versions

1.8.x
Support this Project's Development