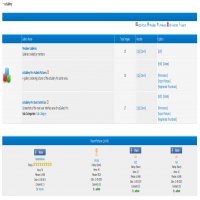 ezGallery
A gallery system for MyBB with categories/thumbnails/ and permission system.
Project Details
ezGallery for MyBB is a gallery system for your MyBB forum.
Features:
Categories for images
Comment System
Keywords for picture
Picture Approval
Reporting of Picture
Who is viewing a picture/gallery
Permissions for adding picture, editing own picture, deleting own picture, viewing the gallery, autoapproved for images, and managing the gallery
Settings for max image size and max image width and height
Creates thumbnails automatically for uploaded images
Supports bmp, gif, jpeg, and png images
Author

Collaborators

None

Version

2.2

Submitted

2014-10-11, 10:36 PM

Last Updated

2020-12-17, 03:05 PM

Bug Tracking

Open

MyBB Versions

1.8.x
Similar Projects
No similiar projects have been found.
Support this Project's Development