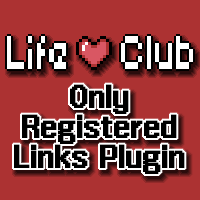 LHC Only Registered Links
This plugin replace all the links in your community by customizable legend and show it to "Guests" and "Awaiting Activation" users.
Project Details
This plugin will allow you to set custom messages to those users who try to see links posted by users in your forums, showing to a link/button to the register page.

It also hides links on shoutboxes.
Author

Collaborators

None

Version

1.0.2

Submitted

2014-11-03, 02:26 AM

Last Updated

2018-10-20, 04:26 AM

Bug Tracking

Disabled

MyBB Versions

1.8.x
Similar Projects
Support this Project's Development