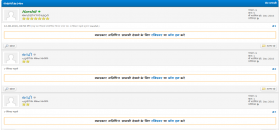 Hide content from guests
Hide your thread content from guests & members
Project Details
If you don not want your guest to browse your forum without registration or sign in, you need this plugin.
- It helps admin to prevent guest from browsing the forum.
- It enables admin to set a message to the guests viewing your forum.
- It allows admin to hide either only comments or posts or both.
- It allows admin to prevent particular users to view the content on the basis of number of posts.
https://github.com/Harshit21/Hide-Content-From-Guests
Author

Collaborators

None

Version

4.3

Submitted

2014-11-28, 05:02 AM

Last Updated

2021-01-16, 10:16 AM

Bug Tracking

Restricted

MyBB Versions

1.8.x