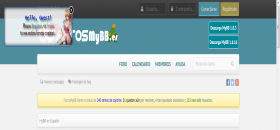 Floating Guest Notify
Shows a nice and customizable pop up for guests in your forums
Project Details
Upload all files via FTP to your forum.
If you want you can add new images to location images/floating_guest.
Here you ca put your images.
Then you can go to admin cp plugins and in Floating Guest Notify - Activate.
Then a button appears Plugin Configuration, click on it and configure settings at your own style xD.
Now see results on your forum when you are a guest.
Author

Collaborators

None

Version

1.2

Submitted

2014-12-23, 06:39 AM

Last Updated

2017-12-22, 10:34 AM

Bug Tracking

Disabled

MyBB Versions

1.8.x
Latest Builds