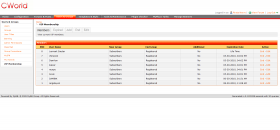 VIP Membership
Admins can move users to other groups, e.g. VIP group, and set how much time that user will stay there.
Project Details
Note: this is not related payments, at all. Users are manually upgraded through this system, by administrators.

Description
Allows admins to move users to certain groups for a certain period of time and put them back to a group of their choice once the expiration date has passed.
Admins are PM'd when someone adds someone to a new membership.
Admins are PM'd when someone's membership expires.
Users whose membership expires, are alerted too. (via PM)
Change Log

 * 1.6
Added compatibility with MyBB 1.8.
Fixed bug related to settings, in the task.
"End" link would show in Expired memberships tab.
 * 1.5
Fixed a typo in a function name (send pm function).
 * 1.4
Fixed bug in pagination.
 * 1.3
Added compatibility with MyBB 1.6
 * 1.2
Fixed bug in language file.
 * 1.1
Added the possibility to run the query to check for expired memberships off task - recommended for large boards
Now you can add life time memberships by settings the year, month, days, hours, minutes and seconds fields to 0
Support
Only paid subscribers at
http://www.mybb-plugins.com
can get support.
Author

Collaborators

None

Version

1.6

Submitted

09-01-2014, 07:26 PM

Last Updated

09-04-2014, 03:37 PM

Bug Tracking

Disabled

MyBB Versions

1.8.x
Latest Builds
Similar Projects
No similiar projects have been found.
Support this Project's Development