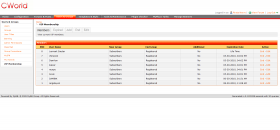 VIP Membership
Admins can move users to other groups, e.g. VIP group, and set how much time that user will stay there.
Project Details
Note: this is not related to payments, at all. Users are manually upgraded through this system, by administrators.
Description
Allows admins to move users to certain groups for a certain period of time and put them back to a group of their choice once the expiration date has passed.
Admins are PM'd when someone adds someone to a new membership.
Admins are PM'd when someone's membership expires.
Users whose membership expires, are alerted too. (via PM)
Change Log
1.7
Added compatibility with PHP 7.2

1.6
Added compatibility with MyBB 1.8.

Fixed bug related to settings, in the task.

End" link would show in Expired memberships tab."

Support
Only paid subscribers at
https://www.mybb-plugins.com
can get support.
Author

Collaborators

None

Version

1.7

Submitted

2014-09-01, 07:26 PM

Last Updated

2020-04-26, 12:33 PM

Bug Tracking

Disabled

MyBB Versions

1.8.x
Similar Projects
No similiar projects have been found.
Support this Project's Development