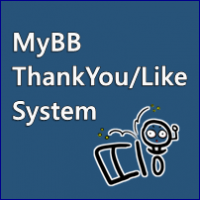 Thank You/Like System+MyAlerts & Tapatalk support
Thank You/Like System for MyBB with MyAlerts and Tapatalk support
Project Details
Thank You/Like system
This is one of the best plugin for MyBB. It offers complete Thank you/like system with advance features including MyAlerts v2.0 and Tapatalk support.

Full Tapatalk support!




MyAlerts v2.0 support!



Support for MyBB group promotion system!

Maximum thanks/likes in a time period configurable for every usergroup.

Full language support.

Turn plugin on/off with a single option.

Switch between "Thank You" or "Like" by changing one simple option.

Thank Yous/Likes are fully AJAX compatible.

Customize Thank You/Like for first post of thread only or for all posts.

Selectable option to allow/disallow users from removing their Thank You/Like.

Exclude forums where you do not want to use the Thank You/Like system.

Plugin tracks number of Thank Yous/Likes for users, posts and threads as well as a grand total.

Shows Thank You/Likes in postbit as well as the user's profile.

Counts both the Thanks/Likes given as well as the Thanks/Likes received and the number of posts received in.

Finds all threads or posts Thanked/Liked by any particular user as well as threads or posts where a user received thanks/Likes.

Thank Yous/Likes list can be made to collapse saving space for boards where threads/posts get a lot of Thank Yous/Likes.

Sort the Thank Yous/Likes by username or by order of Date/Time Thanked/Liked.

Show/Hide Date/Time of Thank You/Like and also set the format of the Date/Time or show date/time on a mouse hover.

Works for all modes of views, classic, modern, linear, threaded.

Thank You/Likes can be recounted and rebuilt if they get out of sync for any reason.

Format list of users who have Thanked/Liked according to their display groups or just keep it plain.

IPv6 ready and fully supported.

Custom CSS file for easier customization.

Option to set Thank You/Like button only for specific forums.

Hide/show Thank You/Like button/list for specific user groups.

Allow/disallow adding Thank You/Likes in closed threads.

Popup jGowl notification in the top right corner with settings.

Support for multiple themes.

Recount and rebuild cache in ACP.

Customize time and date output settings for Thank You/Likes received under posts.

Ability to thank/like own posts with custom settings.

Cached templates and minified JS for better site speed.


Highlight popular posts with predefined amount of gained thanks/likes.




Support for MyBB reputation system.




Possibility to display most thanked/liked post in a member profile for every user.




Display total thanks/likes from the first post in your forumdisplay/search page




Statistics for every user in a member profile page



...and much more!

FEEL FREE TO CONTRIBUTE/REPORT BUG OR TELL US YOUR IDEA!
Author

Collaborators

Version

3.4.5

Submitted

2015-01-12, 11:07 AM

Last Updated

2023-08-06, 08:57 AM

Bug Tracking

External

MyBB Versions

1.8.x
Similar Projects
Support this Project's Development